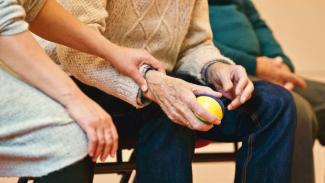 Incorporating Long-Term Care in your Retirement Planning
A recent article in the New York Times highlighted a growing issue in America: more and more Americans need some form of long-term care, and few have insurance to cover the expenses. Even those who purchased Long-Term Care Insurance may find that it falls short of their expenses or doesn't cover the type of care they desire: Why Long-Term Care Insurance Falls Short for So Many.
It's daunting (and frankly, depressing) to think about the day when you may not be able to live independently and care for yourself. However, it's a growing concern for many retirees who know they may need care in the future. Planning early for long-term care can help ease your mind and keep you from becoming overwhelmed in the event that you develop a chronic illness, disability or other condition. By planning your care now, you'll be more likely to have greater control over significant decisions and remain comfortable as you get older. 
Here are some aspects of long-term care to consider:
Consider the Type of Care You May Need (or want)
It's important to think about all the possibilities for long-term care before you have to make tough decisions. Increasingly, people are preferring to age within their homes, hiring a home health aide instead of moving to assisted living or a nursing home. Take a look around your home. Will you be able to move around efficiently if you develop mobility problems? Think about the adjustments that can be made to your home to make it more accessible, like putting in a ramp or widening the doorways to allow for wheelchair access. If your home is not suited to these adjustments, or requires a lot of upkeep that you may not be able to do yourself, you might want to consider moving to a home better-suited to these considerations.
Even if you don't currently have mobility problems or a chronic illness, you may develop these issues as you get older. By thinking about all long-term care possibilities early, you'll be prepared if you need to make a quick decision to manage your health and quality of life. 
Think about the type of home you may want to live in, if you are unable to remain in your home. There are many different types of independent living communities, assisted living, and nursing homes, all offering different levels of care and aspects. If it's affordable, some may choose a community that offers many levels of care, so they can move from one area to another with greater ease. Some may offer certain guarantees, that they'll continue caring for someone if the finances run out - these may require strict financial underwriting when you move to the community, but offer some peace of mind.
Explore Financing Options 
All long-term care options come at a cost, so it's essential to weigh this against your planned retirement budget. Figure out the typical costs for in-home caregivers and mobility adjustments for your home. And even if you plan to stay in your home, research the average costs of long-term care facilities and nursing homes in your area. You might need to make a tough decision down the line, and having an idea of the cost will make things easier. 
Once you have an idea of what your options are cost-wise, think about how they may fit into your budget. You may think that health insurance will cover all costs for long-term care, but in reality, Medicare and private health insurance typically cover very little in this category. If you have a low income and fit certain medical criteria, you may qualify for Medicaid to cover the costs of your long-term care. 
Over the years, various types of long-term care insurance policies have developed, which may be helpful but need to be considered carefully. Traditional, "stand-alone" long-term care policies may have offered generous benefit amounts, but only for certain types of care (for instance, nursing home insurance that doesn't cover home health aides). These policies have changed over the years and can still be purchased, but only a limited number of companies still offer them and with stricter benefits (you must decide how long you want coverage to last, if you want an inflation rider, etc). Additionally, these policies can increase in price after issue.
A newer type of insurance policy comes as a long-term care rider on a life insurance policy. Essentially, one pool of benefits is purchased (the Death Benefit), but can be used either for long-term care expenses or passed on to your beneficiaries. This has some advantages over the stand-alone LTC policies, such as making sure benefits are used one way or another. However, they sometimes lack other benefits so should be examined in detail.
For someone who has the financial means, they may "self-insure" the risk of needing long-term care. This means factoring the possibility into their retirement planning and setting aside enough money to cover those expenses, should they arise. 
A financial planner should be able to help you assess these options to choose the one that's right for you. Creating a comprehensive retirement plan can help determine whether you have the assets and ability to cover the expenses yourself, and if so, how much you can safely spend throughout retirement while still leaving these funds available. If it makes sense to push some of the financial risk onto an insurance company, an advisor can also help review the available options and weigh the pros and cons of each type of insurance. 
Share Your Plan with Your Loved Ones  
Remember to talk with your loved ones about the possibility of needing long-term care in the future. It may bring your children some peace of mind knowing that you've thought about it and have a plan in place. Additionally, they may be able to support you in various ways and allow you to cut down on costs when you need care. Having these discussions early will also make it easier for your family to make the right decisions on your behalf if you're unable to. Be sure to involve a financial professional in these conversations as well, to guide you through the financial impacts of long-term care for both you and your loved ones. 
 
*This content is developed from sources believed to be providing accurate information. The information provided is not written or intended as tax or legal advice and may not be relied on for purposes of avoiding any Federal tax penalties. Individuals are encouraged to seek advice from their own tax or legal counsel. Individuals involved in the estate planning process should work with an estate planning team, including their own personal legal or tax counsel. Neither the information presented nor any opinion expressed constitutes a representation by us of a specific investment or the purchase or sale of any securities. Asset allocation and diversification do not ensure a profit or protect against loss in declining markets. This material was developed and produced by Advisor Websites to provide information on a topic that may be of interest. Copyright 2023 Advisor Websites.