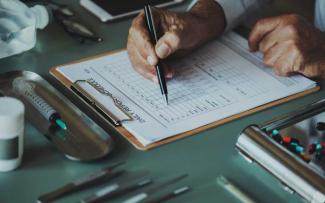 Assessing and Financing a New Home
With low interest rates and rising home values in recent years, the current real estate market looks very different than it once did. While owning a home is the quintessential American dream, not everyone is able to purchase a home when they desire. With homes sometimes selling within a day and receiving offers over the asking price, many homebuyers are wondering how much they can, or should, pay.
One critical component to consider, especially in such a hot real estate market, is how long do you plan to remain in the home? Although real estate values have increased at a greater-than-average rate in 2020 and 2021, there is no guarantee that this growth rate will continue. Conventional advice in real estate says that it can take 4-5 years to recoup your initial out-of-pocket expenses (closing fees, moving costs, etc) and approximately 7 years to break even or see a modest profit on the sale of the home (assuming that you will pay realtor's fees when selling). With this in mind, long-term homebuyers can take advantage of today's low interest rates, locking into 30-year mortgages for historically low rates. However, those who don't plan on remaining in the home long-term should carefully consider all their options, including renting. What will you do if you need to sell in 3 years, but the value of the home hasn't grown enough to pay off the mortgage or provide the down payment on your next home?
Another consideration is your current career and financial stability. If you're fresh out of school with a boat load of student debt, it's probably best to wait until you feel established in your career (and know that you plan to remain in your current city) before you start looking to buy. You'll also want to make sure that your credit score is desirable, since the higher your score, the lower your interest rate will be. It's important to pull a copy of your credit report prior to contacting any mortgage companies; examining it in minute detail to ensure that everything is correct. If you do find an error, dispute it with the credit bureau immediately and keep the documentation. Make sure that you're making all your payments on time to improve your score, and avoid opening too many new loans/credit cards or racking up debt that will hurt your ability to get a good mortgage rate.
Finally, you'll have to think about a down payment. If you are a veteran, you may be eligible for a VA loan, which doesn't have a down payment requirement. FHA loans only require a 3.5 percent down payment, but have additional requirements regarding the home inspection. Conventional mortgages typically ask for at least a 5 percent down payment, but are preferred by many sellers today because they don't come with the same inspection requirements as an FHA loan. And don't forget that even without a large down payment needed, you'll still have to pay closing costs, which can vary widely. There are also other costs that come after closing, such as renting a moving truck or hiring a moving company, purchasing necessities for your new home (such as a lawn mower or new furniture), and establishing an emergency fund in case the furnace goes out or other such home repair is needed.
If you're ready to move forward on finding your new home, you should pre-qualify for a mortgage. The pre-qualifying letter from your mortgage company will make it much easier to negotiate with sellers or builders when you do find the right home - in fact, some realtors or sellers won't work with buyers who are not pre-qualified.
Below are a few things you will want to have on hand when meeting with a mortgage lender:
A year of bank statements. While this is much easier today with the advent of electronic banking, you'll still want to make sure that you can quickly and easily access a complete year of statements. If not, you'll have to request them from your banking institution. Of course, if you're still having statements mailed to you, this won't be a problem.
Payment stubs. While most mortgage companies only require the last three months of pay stubs, there are some that require more; particularly if you have changed jobs recently. These will have to be updated as the closing date arrives, so if you're having a home built, you'll likely have to provide this information twice.
The previous 1-2 years of income tax returns. Most mortgage companies will want to see a consistent earnings history.
A written explanation for any unusual items that are currently on your credit report. It can help you immensely to access a copy of your report ahead of time (see above) and prepare a written explanation for anything that is not straightforward, such as collection accounts, past bankruptcies, or any judgements that have been entered against you in the last seven years. You may also have to provide an explanation or documentation if there are several names listed on your credit report.
A balance sheet or other documentation if own or operate your own small business. While you should have this anyway, it's best to be prepared for this request in advance. You'll also need to provide your tax returns for the last two years.
Purchasing a home is exciting, and for many people the process of searching for and viewing homes can be enjoyable. However, it's important to not only find out how much loan you can pre-qualify for (how much the bank is willing to loan), but also assess how much you can comfortably afford to pay on a monthly basis. Just because a bank approves a certain amount doesn't mean that it would fit well with your other monthly expenses - you should also analyze how that mortgage, along with insurance and property taxes, would fit into your monthly budget.
Have further questions? Use our form below to contact us for a consultation.
This blog post, including the views and opinions contained herein, is being provided for informational purposes only, and it should not be relied upon in making any investment decision. This blog post does not constitute investment, tax, accounting, or legal advice, nor does it constitute a recommendation or offer to buy or sell any security or financial product. To the extent that the recipient has any questions regarding the applicability of any information discussed herein to their specific portfolio or situation, the recipient should consult with the investment, tax, accounting, and/or legal professional of their choosing.